2016 Plan
Historical Monument Design Unveiling
Historical Monument Design Vote started on Jan. 22, and end on Feb. 6, 2016, the top five artists will be selected and submitted to committee. Monument Committee will select two artists from top five artist and their design for the final vote. The Historical Monument Design Unveiling will be in May, 2016.
Documentary Film
Crossing Donner Summit
The 30-minute documentary film documents a two-day special train oper-ated from Oakland to Reno in May 2015 commemorating tens of thou-sands of Chinese workers hired to build the Central Pacific Railroad in May 1865. Boarded the special train are descendants of those Chinese work-ers, general consul from China Consulate in San Francisco, executives from Union Pacific, and leaders of APAPA, a leading grass root Chinese community organization as well as many Americans. Most of them know little about the history about how the railroad tracks were laid in Sierra Nevada Mountains 150 years ago. The train crossing Donner Summit is like a time capsule taking all passengers going back to 1860s when the army of Cantonese drilling the first tunnel from granites as well as surviv-ing through the first severe winter. Recalling great grandfather Jim King's backbreaking working on these tunnels to Donner Summit, Gene Chan, one of the descendants of the Chinese workers on Sierra mountains tells about his family stories from building up the railroad to being driven out after the completion of CPRR as many pioneer Chinese immigrants had suffered. This will be the first documentary film recording the 150th anni-versary of Chinese workers on CPRR. It will also document how the Chi-nese communities unite together to organize such a big event in collabo-ration with Union Pacific as well as other American enterprises and peo-ple on their way to build up a better America.
Photo Exhibition
Chinese Railroad Workers Historical Photo Exhibition boards were displayed during Opening Gala and in Sacramento County Administration Center, May 18 – June 19, 2015. After that the exhibition
boards were exhibited in New York, and Davis. The portable exhibition boards will be display in many cities, including Cupertino Historical Society and Cupertino City Community Center in20 16.
Forum
"The Chinese and the Iron Road: Building the Trans-continental" portable exhibit will be displayed at Yolo County Library, Davis Branch from June 1 – June 30, 2016. Association will co-host a forum with Yolo County Library, Davis Branch on June 4th.
• UP speaker: introduce history of US railroad
• Dr. Gordon Chiang: Chinese railroad workers participated in building the transcontinental rail-road• Two Chinese railroad descendants: family story
• Technical professional: high rail.
Book Presentations Events
Voices from the Bottom of the South China Sea: The Un-told Stories of America's Largest Chinese Emigrant Disas-ter:
10:00 am – 12:00 pm, October 16th, 2016, San Francisco.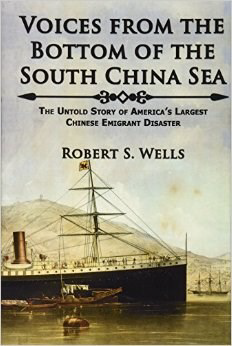 The Author: Robert S. Wells, Retired U.S. Navy Captain with a distinguished 30-year naval service career. During his career, Captain Wells was awarded 20 service medals including two Defense Superior Service medals and two Legions of Merit. He also served in the Clinton and Bush (43) Administrations. His most recent White House ex-perience included three years on Vice President Dick Cheney's National Security Affairs staff as Special Advisor.
The Book: A remarkable story about the beginnings of the modern U.S. and China relationship, seen through the lens of a dramatic 1874 deep-sea shipwreck involving the loss of many lives and a treasure still buried at sea. The Chinese emigrants who perished, just hours away from a long-awaited return to their homeland when a midnight coal fire raged across the deck of the SS Japan, are the centerpiece of the story. The story involves their time spent in California to help build America's railroads, mine its silver, and grow its food, only to have public sen-timent turn against them with an anti-immigrant, racist fervor. The amazing tale involves a shipwreck, pirates, and a considerable treasure (nearly $400,000 in silver dollars), but most of all is about a deep-water time cap-sule, symbolizing a critical early chapter of U.S.-China re-lations. With the lost records of the event recently dis-covered and pieced together by the author, the history of disaster allows the lost voices to tell their larger story to the world from the bottom of the South China Sea.
---
Voices from Donner Summit and The Bottom of the South China Sea
Sunday, Oct. 16, 2016, 10:00AM – 12:00PM
Great Star Theater
636 Jackson St, San Francisco, CA 94133
Free Admission